The PI Pogossian's Inaugural lecture for East of Byzantium, Mary Jaharis Center for Byzantine Art and Culture
Since 2016, every year the Mary Jaharis Center for Byzantine Art and Culture (at the Hellenic College Holy Cross, Boston) holds a series of events within a rubric East of Byzantium.
Organised by Prof. Christina Maranci, Mashtots Professor of Armenian Studies at Harvard University and facilitated by Dr. Brandie Ratliff, Director of Mary Jaharis Center for Byzantine Art and Culture, the East of Byzantium is a most important series of initiatives that has been encouraging the study of cultures in West Asia and their centuries-long interactions with each other and the Byzantine Empire. The ArmEn Project PI Zara Pogossian gave the inaugural lecture of this Academic Year's (2022-2023) events with the title Dynastic Change, Family Networks and Female Genealogies in Medieval Armenia (11th -13th cc.).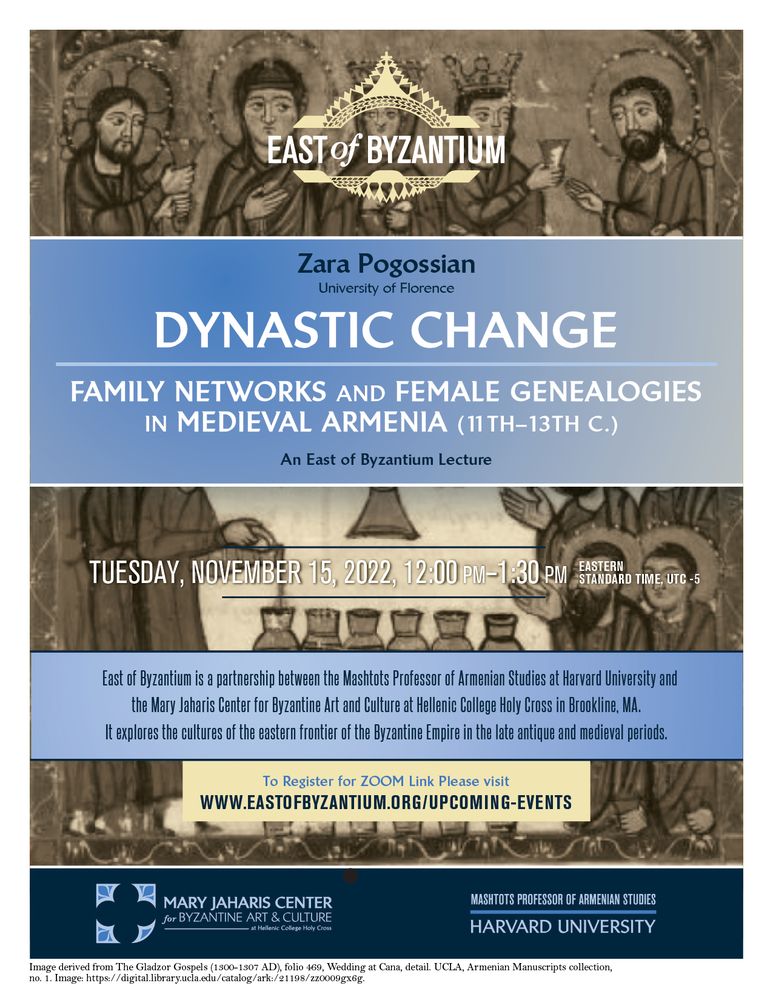 The lecture focused on a period of medieval Armenian history – eleventh to late thirteenth centuries – that was characterized by a gradual deterioration and break-down of its until then traditional social structure based on land-holding military families known as nakharars. In this context a number of new military men, mostly with no illustrious lineage and/or previous connection to certain specific regions, rose to power. As they sought ways of legitimizing their control of recently conquered land and resources in various parts of historical Armenia, marriage alliances and, hence, the building of new family networks via women acquired increasing importance. This is especially true in the case of wives that came from older, prestigious dynasties which had lost or were about to lose their significance. There are also cases of women who were themselves from 'new families' but who played a key role in entering local networks of power in different ways. These general considerations were illustrated through specific examples bringing to the audience's attention the significance of women from (new or old) élite families, particularly from the end of Bagratid rule, and through Seljuk and Mongol (particularly Ilkhanid) periods. The inter-religious aspects of such family networks were equally highlighted. Although the talk addressed various regions of historical Armenia, greater attention was paid to Arts'akh and Syunik', reflecting the lecturer's on-going research-in-progress.
For further details visit East of Byzantium website
Prof. Pogossian will continue her activities for East of Byzantium throughout this academic year, including a workshop with a group of Ph.D. students from around the world selected on a competitive basis, including a discussion of their research progress and possible new threads of research.