A Presentation at the Center for the Study of New Testament Manuscripts (Dallas, Texas, USA)
On 19 May 2022 ArmEn team member Armine Melkonyan presented a paper at the Text & Manuscript Conference hosted by the Center for the Study of New Testament Manuscripts (CSNTM) near Dallas, Texas (
https://conference.csntm.org/Schedule
).
Armine presented an Armenian homiliary (housed at the Matenadaran-Mashtots Institute of Ancient Manuscripts, Yerevan, No. 4670) and its Colophon(s), written in 1401 in the city of Vostan (Vaspurakan). It is one of the largest Armenian manuscripts (815 folios, 50X34 cm), copied by the famous artist and scribe Tserun. In the colophons Tserun mentions his wife Arghun, who assisted him and worked on polishing the paper.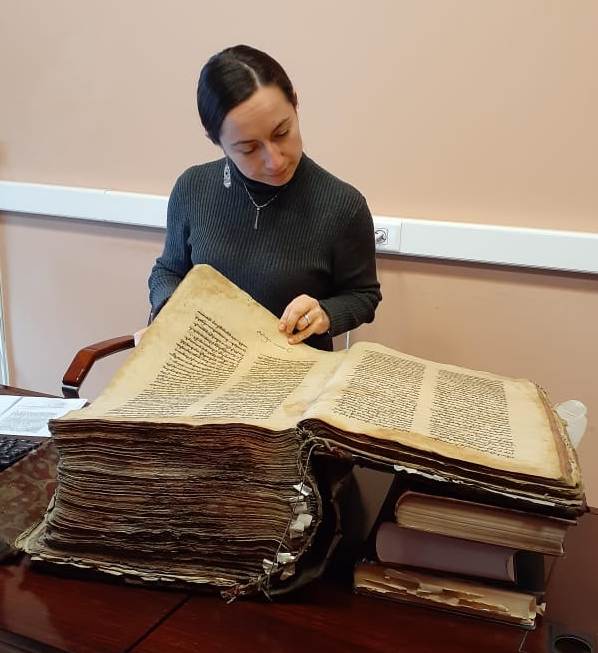 The focus of the paper was to trace how the Bible and biblical apocrypha are incorporated in the text of the colophon(s) of Ms 4670. She also discussed the reflection of Christian-Muslim controversies and the influence of a polemical treatise by an Armenian author, Matt'eos Jughayetsi (written in 1393 in Vaspurakan, 8 years before the Homiliary in question was created), on the Colophon.
Based on Ms 4670 the paper analysed the importance of the content of Medieval Armenian Homiliaries as evidence of cultural processes and cross-cultural interactions. These often contain excerpts from biblical commentaries, apocrypha, lives of saints, martyrologies, sermons, encomiums by Church fathers and medieval Armenian authors. The sermons by the Armenian authors in the Homiliaries best reflect the socio-moral values, problems, and challenges of the time. In this regard, the talk presented also the portrayal of the Prophet Muhammad in the sermons of the 9th century armenian author and leader of the church, Catholicos Zakaria Dzagetsi.
In the Colophon the scribe provides intriguing historical information as well: "The manuscript was copied… in bitter and sorrowful times, during the conquest of Amir Tamur [Timur Lang], who in this year devastated Halap [Aleppo] and Dmshk [Damascus] and Baghdad, and left much inconsolable grief to the Tachik people [arabs]". The colophons, thus, stand out almost like 'daily news' on the global processes in which Armenia was involved.