Hasmik Hovhannisyan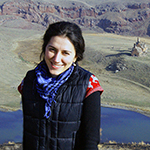 Hasmik Hovhannisyan is a specialist in medieval Armenian history and numismatics with a particular emphasis on the Byzantine and Seljuk period.
She holds a B․A․ and M․A․ in Art History from the Yerevan State University and obtained her Ph.D. in History from the Institute of Archaeology and Ethnography of the National Academy of Sciences of Armenia. She has worked as curator of Byzantine coins and keeper of medals and modern coins at the History Museum of Armenia.
Dr. Hovhannisyan's research mainly focuses on the political and economic history of medieval Armenia and its neighbors. Her contributions to Medieval Studies are based on numismatic and archaeological investigations. She has participated in the excavations of various archaeological sites since 1999 (Erebuni, Armavir, Dvin, Tsaghkadzor, Yeghegis, etc.).
Her research interests cover more specifically Byzantine coinage (10th -13th cc.): the flow of the coins to Armenia; their circulation and re-circulation beyond the Byzantine context; countermarked coins; local imitations, etc.
H. Hovhannisyan has initiated the first systematic study of the Byzantine coins found in Armenia. She is currently preparing a publication on the entire collection of Byzantine coins preserved at the History Museum of Armenia: Sylloge Nummorum Byzantinorum series (in 5 volumes).
Her publications include:
• A hoard of Byzantine anonymous folles from the archaeological excavations at the Khacher site in Tsaghkadzor, "Banber"- Bulletin of Yerevan University, Armenian Studies, 141.1, Yerevan 2013, pp.16-29
• Byzantine folles struck between 969-1092 and their circulation in Armenia, Vem Pan-Armenian Journal, VI (XII), No 2 (46) April-June, Yerevan 2014, pp. 114-130
• Sylloge Nummorum Byzantinorum III. Armenia, HMA Catalogue of Byzantine Anonymous Folles, Class A (969-1028), Yerevan 2016 – 284 pages
• Coin finds from Ani, Hushardzan, Anual, 12-13, Yerevan 2017-2018, pp. 190-201
• Byzantine coins in Armenia, History of Coinage in Armenia, Central Bank of Armenia, Yerevan 2018, pp. 80-97
• Georgian coins in Armenia, History of Coinage in Armenia, Central Bank of Armenia, Yerevan 2018, pp. 100-105
• First coins with Armenian inscription, History of Coinage in Armenia, Central Bank of Armenia, Yerevan 2018, pp. 98-99
• The circulation of Byzantine coins with XII century Islamic countermarks in Armenia, co-author Zohrabyan A., International Conference "Historical and Cultural Heritage and Contemporaneity", Shirak Center of Armenian Studies, NAS RA, Gyumri, 2013, pp. 24-26