Armine Melkonyan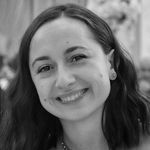 Dr. Armine Melkonyan is a specialist in medieval Armenian history, philology and manuscript studies. Her research has focused on medieval theological and philosophical treatises, as well as biblical commentaries and liturgical texts, but she has worked also on the 19th century Armenian literature and culture. Dr. Melkonyan has been part of the team that is engaged with the preparation of a multivolume "General Catalogue of Armenian Manuscripts" at the Institute of Ancient Manuscripts, Matenadaran, Yerevan. She is particularly familiar with manuscripts of Synaxaries, Homiliaries, Lectionaries, and Collections.
Between 2005 and 2009 Dr. Melkonyan has participated in the International project The Diffusion of Neoplatonic Thought and Texts in Ancient and Medieval Armenia: the Work of David the Invincible, led by Prof. Dr. Valentina Calzolari (Université de Genève) funded by the Fonds Nationale Suisse. In 2006-2007 she was a visiting student at the University of Geneva. She obtained her PhD in History in 2014, from the Yerevan State University with the thesis on The Encomium on the Theoleptic Holy Cross by David the Invincible and its Commentaries: A Historical and Theological analysis (supervised by Prof. Dr. E.M. Shirinian).
Dr. Melkonyan has been a lecturer of Classical Armenian language and History of Religion at the Yerevan State Academy of Fine Arts and in 2008-2010 (August) taught at the Summer Intensive Course of Armenian Language and Culture, organized by the Padus-Araxes Cultural Association, Venice.
Her publications include: