Edda Vardanyan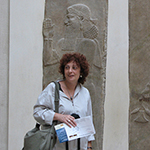 Edda Vardanyan is a leading specialist in medieval Armenian art and architecture. She obtained her PhD in Art History in 2001, from the École Pratique des Hautes Études (Sorbonne, Paris). Currently, she is a Senior Researcher at the Institute of Ancient Manuscripts -- Matenadaran, Erevan and an associated scholar at the Centre d'histoire et civilisation de Byzance (UMR 8167, Orient et Méditerranée, CNRS/ University of Paris 1 & 4, EPHE, Paris).
Edda Vardanyan is a member of various scholarly associations and has been the recipient of a number of prestigious grants and fellowships, such as from the Institue d'Études Avancées (IEA, Paris). As a fellow she was one of the organizers (in collaboration with J.-P. Mahé and Z. Pogossian) of the international conference devoted to the 10th century Armenian church of the Holy Cross on Ałt'amar, held at the Académie des Inscriptions et Belles-Lettres. In 2017, Dr. Vardanyan was a Researcher in the Institut de Recherche et d'Histoire des Textes (IRHT, CNRS, Paris), where she prepared the Catalogue of the Armenian Manuscripts preserved in the Armenian Museum of France (Paris).
She is the author of numerous publications on medieval Armenian art and architecture, including a collective volume on Hoṙomos Monastery: Art and History (Monographies 50), (Paris, 2015) edited by her; The Church of the Holy Cross of Ałt'amar. Politics, Art, Spirituality in the Kingdom of Vaspurakan (Leiden, 2019) co-edited with Z. Pogossian, and a book on Hakob's Gospels: The Life and Work of an Armenian Artist of the Sixteenth Century (London, 2006) co-authored with T. Greenwood.
Edda Vardanyan has curated exhibitions devoted to medieval Armenian art and culture in 2007 in Paris: "Les chemins de l'Arménie" at the Musée Arménien de France, within the cultural programme of the Year of Armenia in France Arménie mon amie; and in 2012, in Avranches (France): "Reflets d'Arménie : manuscrits et art religieux", at the Museum of Scriptorial d'Avranches – musée des manuscrits du Mont Saint-Michel.
Within the project HAI Mobility Dr. Vardanyan will explore manuscript illuminations and ideas of royal ideology among various Armenian communities of the Diaspora and those living in historical Armenia.