István Perczel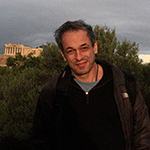 István Perczel is Professor of Byzantine and Eastern Christian studies in the Department of Medieval Studies at Central European University, Budapest, Hungary. He has worked extensively on Late Antique and Patristic philosophy. Perczel is Senior Researcher in the JewsEast ERC project (PI Alexandra Cuffel), within which he is responsible for the Indian part.
In the year 2000, he initiated the digitization and cataloguing of the manuscript collections of the Saint Thomas Christians of Kerala. The project has resulted in the collection of digital images about over 1,200 paper manuscripts written in Syriac and Garshuni Malayalam and 60,000 palm-leaf manuscripts as well as the documentation of architectural monuments, artworks, and inscriptions. Perczel's publications on Indian subjects include The Nomocanon of Metropolitan Abdisho of Nisibis: A Facsimile Edition of MS 64 from the Collection of the Church of the East in Thrissur (2009); a co-edited volume, Christianity in Asia: Sacred Art and Visual Splendour (2016); and a series of studies on Indian Christianity and the Indian manuscript collections, including 'Classical Syriac as a Modern lingua franca in South India between 1600 and 2006' (2009); 'Garshuni Malayalam: A Witness to an Early Stage of Indian Christian Literature'(2014); "Accommodationist Strategies on the Malabar Coast: Competition or Complementarity?" (2018); "Syriac Christianity in India" (2019).

Another research project of Perczel is on Christian Platonism and Byzantine theology, within which he has published studies on Saint Antony, Evagrius of Pontus, Pseudo-Dionysius the Areopagite, the sixth-century Origenist movement, Maximus Confessor, Symeon the New Theologian and John Italus, such as 'Universal Salvation as an Antidote to Apocalyptic Expectations: Origenism in the Service of Justinian's Religious Politics' (2017), 'Revisiting the Christian Platonism of Pseudo-Dionysius' (2020) and 'John Italos on the Eternity of the World: A New Critical Edition of Quaestio 71 with Translation and Commentary' (with András Kraft, 2019).