Rachele Zanone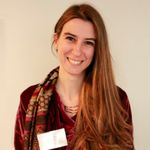 Rachele Zanone is an art historian who holds a PhD in History, Territory and Cultural Heritage (Doctoral program in Art history, Archaeological and Cultural Heritage Conservation) from the University of Roma 3 (2020). Her doctoral thesis focused on the study of the scenes of the Passion of Christ in Armenian miniatures from Vaspurakan (13th-14th centuries), particularly in the artistic production of the minisaturist Yovsian. For her Master's Degree in Archeology and History of Art from the University of Tuscia (Viterbo), she worked on the history of Byzantine art and the cycles of Passion in the rock churches of Cappadocia (from the Crucifixion to the Anastasis).
She has been recipient of international scholarships and grants, such as a Short Term Grant for Armenian Studies promoted by the Calouste Gulbenkian Foundation of Lisbon (2018 and 2022) to carry out research at the "Matenadaran" Institute of Ancient Manuscripts (Yerevan, Armenia) and the Library of the Kunsthistorisches Institut in Florence.
For the Project ArmEn Zanone is exploring portraits of Armenian merchants in the context of manuscript production of medieval Eurasia (9th-14th centuries), with a focus on the textiles and clothes they wear.
Her publications include:
R. ZANONE, Le storie dei Vangeli apocrifi nelle miniature dei manoscritti armeni del Vaspurakan (secc. XIII-XVI). Alcuni case studies, in A. FERRARI S. RICCIONI M. RUFFILLI B. SPAMPINATO (eds.), 7th Seminar on Armenian and Eastern Christian Art, in Eurasiatica. Quaderni di studi su Balcani, Anatolia, Iran, Caucaso e Asia Centrale 18, Edizioni Ca Foscari, Venezia, [in peer review].
R. ZANONE, New Iconographies of the Passion of Christ: the Jews in two Armenian Miniatures of Vaspurakan, in B. KRIBUS – Z. POGOSSIAN – A. CUFFEL (eds.), Material Encounters between Jews and Christians from the Silk and Spice Routes to the Highlands of Ethiopia, ARC Humanities Press, York [in peer review].
R. ZANONE, A Punitive Miracle and Prelude to the Passion. The parable of the Cursing of the Fig Tree in the Yovsian's manuscripts (Ms. 4806 – Ms. 4818), in Actes du Colloque international - A la memoire de Sirarpie Der Nersessian (1896-1989), Paris INALCO Press, [in peer review].
R. ZANONE, Nuove considerazioni su una miniatura del ciclo della Passione di Cristo del pittore Yovsian: Il Consiglio dei sacerdoti ebrei (Erevan, Matenadaran, mss. 4806 e 4818), in Rassegna degli Armenisti Italiani, (2019), pp. 35-45.